I found a new linky party for Mondays! It's called Miscellany Mondays. I found it at
lowercase letters
. Just list miscellaneous and random things. Fits me well, don't ya think? :)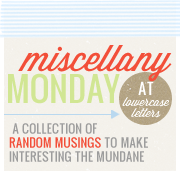 [one]
Mondays aren't so bad. I actually looked forward to today! Mainly because I have the day off. (Although I'll probably go in later this afternoon!) There's just something about not having to go in to work...
[two]
In 20 years, when I watch movies from today, will I make fun of the hairstyles like I do when I watch movies from the 80s?
[three]
I miss my family. Yup. Lydia, the independent trailblazer that never needs anyone misses her loving parents and drive-me-crazy sisters. And those oh-so-adorable puppies! Miss you all.
[four]
I believe the pool is calling my name. Definitely the best way to spend 100+ degree Mississippi days!!