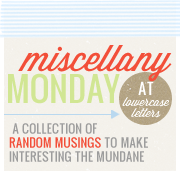 [one]

It's a sad day when I think I have Monday off after working all week and weekend. It's rare to have a weekend off nowadays. Even when requested, I'll still end up working Saturday or Sunday. Be thankful for the j-o-b, right? I am thankful, I am thankful…
[two]

The wedding I directed this weekend was wonderful! Despite having to work with a crazy, controlling church wedding coordinator, it was fabulous. The rain held off until all outside photos were taken. No one forgot their words to say. The cake didn't fall over. Both families were very loving towards each other. It was great!!
[three]

I'm battling a bad case of "What do I want to be/do when I grow up?" I need a full time job with a full time salary with full time benefits. But I don't know what field to conquer….???
[four]

I've started using Google Reader, and I love it!! It's become part of my morning routine…check email, check reader. It's one of those things that I don't know why I haven't used it before!