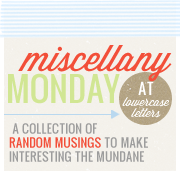 {one}
I'm crafting (probably more like nesting, but nesting in my head means I'm preggo and that's so not true) a lot lately and I am LOVING it. I really want to decorate the entire house for Christmas/Winter this year. Here's to hoping it forces me to clean our guest bedroom/office/Mary Kay store/catch all room.
[two]
I pray I receive really great news later today. Or at least news that will point me to the next path God wants me to walk. Sorry for the vagueness.
*three*
After being on 2nd shift for awhile, I'm on night shift for 3 nights in a row with 1 off night in between and then working a 1st shift this coming weekend. My sleep is all messed up. Madness, I tell you, madness.
-four-
I will get to see my husband for more than an hour today! Yippeeeee!! I have lots of plans for us…walmart, laundry, dusting, hanging art on the walls…
|five|
I have about 80 more minutes of work and I could crawl on the floor and go to sleep right now. This is so not good.